This page uses Creative Commons Licensed content from Wikipedia (view authors).
As there are far too many pages of this type, this page must be edited to be original at the earliest possible moment.
This tag must not be removed until the rewrite is done — doing so is a (possibly criminal) violation of Wikipedia's copyright.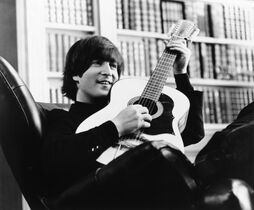 You've Got to Hide Your Love Away is a song by The Beatles. It was written and sung by John Lennon (credited to Lennon/McCartney). It was featured on the album "Help!", and was also featured in the film of the same name.
This song was influenced by the music of Bob Dylan. Around the time, John had been listening to "Another Side Of Bob Dylan", and it directed John to write more personal songs, that often related to his current state of mind. Lennon would go on to do this in other songs, such as Nowhere Man, Good Morning Good Morning, and I'm So Tired. The song itself is about someone who has been stood up by a girl, and everyone proceeds to laugh at him and tells him that he's "got to hide his love away".
In the film Help!, at the opening of the song, the head of the cult, Clang (Leo McKern), appears from underneath a manhole cover in the middle of Ailsa Avenue, London, where parts of the film were shot. He stays there for the whole song, which the Beatles play in Lennon's fourth of the Beatles' shared flat. The flute part of the song is performed by George's in-house gardener (who also trims his grass carpet with chattery teeth). They are watched by Ahme (Eleanor Bron), and at the end of the song, George Harrison passes out after Ahme produces a giant needle for Ringo Starr, who is wearing the ring the cult is seeking.
There is an alternative take included on Anthology II. Before the song proper begins, a montage of chatter associated with several other takes is presented. In this sequence, Lennon counts off the song, then stops to readjust his guitar pickup. After a glass shatters, Lennon sings "Paul's broken a glass, broken a glass. Paul's broken a glass. A glass, a glass he's broke today."
This is the first time The Beatles had recruited outside session musicians to play instruments on a song.
Many consider Yesterday the first, as the strings are so obvious and was released on the same album as "Hide," but "Yesterday" was recorded nearly four months later.
This was recorded at the same time filming Help!.
Community content is available under
CC-BY-SA
unless otherwise noted.