This page uses Creative Commons Licensed content from Wikipedia (view authors).
As there are far too many pages of this type, this page must be edited to be original at the earliest possible moment.
This tag must not be removed until the rewrite is done — doing so is a (possibly criminal) violation of Wikipedia's copyright.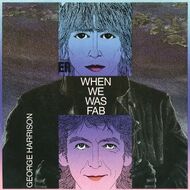 When We Was Fab
is a song written by
George Harrison
and Jeff Lynne. It appears on Harrison's 1987 album
Cloud Nine
and was later released as the second single from that album in January 1988.
Inspiration
Edit
The song is about the days of Beatlemania, and the title refers to The Beatles nickname, "The Fab Four".
Cover Art
Edit
The cover shows the line drawing of Harrison from the Revolver album, but in colour. In the bottom left the letters ER are visible, from REVOLVER. Below that is an updated, 1988 line drawing of Harrison.
Music video
Edit
The music video that accompanied the song was directed by Godley & Creme.[1] Ringo Starr appears first as Harrison's "assistant" and then as the drummer. Also making guest appearances in the video are Jeff Lynne, Elton John (putting the coin in the cup) and Neil Aspinall (Beatles' road manager and personal assistant, holding a copy of John Lennon's 1971 Imagine album). Paul McCartney is rumoured to have appeared in the walrus suit, playing the bass, with Harrison stating in a televised interview that it was indeed Paul McCartney in the promo video, "but he was camera shy that day and his kept his walrus mask on".[2] Later, in 1995, McCartney said "George wanted me to be in it but I wasn't available. So I suggested that he put someone else in the walrus and tell everyone that it was me". [3] Other appearances feature Paul Simon (pushing a cart) and Ray Cooper.[1]
The video received six nominations at the 1988 MTV Video Music Awards, including best art director for Sid Bartholomew.[1][4]
The video is one of those in the The Dark Horse Years 1976-1992 box set.
Although this song is called "When We Was Fab", Harrison actually sings the grammatically-correct "When We Were Fab".
External links
Edit
References
Edit