This Boy is a song by The Beatles. Although credited to Lennon/McCartney, it was mainly composed by John Lennon. "This Boy" was performed on The Beatles' second appearance on The Ed Sullivan Show .
This song was written by John and Paul in a hotel bedroom as a exercise in three-part harmony.
"This Boy" was originally recorded on October 17, 1963, on the A-Side of "I Want to Hold Your Hand".
The session was The Beatles' first song to use 4-track (multi-track) recording facilities. They recorded fifteen takes of "This Boy", as well as two overdubs. The song was recorded with a rounded ending; however, it was faded out during a mixing session on October 21.
Two alternate recordings have also been officially released. A live version performed on The Morecambe and Wise Show in 1963 was released on Anthology 1, and two incomplete takes from the original recording were released as a track on the single "Free as a Bird".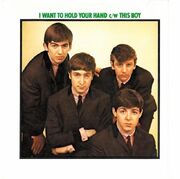 That boy took my love away Though he'll regret it someday But this boy wants you back again
That boy isn't good for you Though he may want you too This boy wants you back again
Oh, and this boy would be happy Just to love you, but oh my That boy won't be happy Till he's seen you cry
This boy wouldn't mind the pain Would always feel the same If this boy gets you back again
This boy This boy This boy [fade out]
Community content is available under
CC-BY-SA
unless otherwise noted.