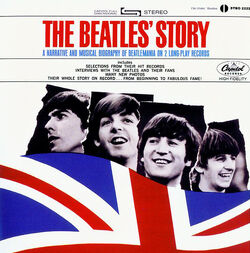 The Beatles' Story a documentary double album featuring interviews, press conferences, and songs by the The Beatles. It was The Beatles' fourth release by Capitol and sixth U.S album, released in both mono and stereo. The disc is unremarkable except for brief stereo excerpts of their 1964 Hollywood Bowl concert, which was unreleased until May 1977. Several voice overs dominate the rest of the record. The album entered the Billboard Top LP's chart on December 12 at number 97. On 2 January 1965, the album reached its peak position at number seven, where it remained for four weeks before beginning its slide down the charts. Cash Box entered the album at number seven, whereas Record World showed the record peaking at number 13. Although not a million-seller, the album was certified gold, signifying sales in excess of one million dollars, in its first week; a very respectable showing, considering that the album was little more than an elaborately packaged documentary record.
In 1996, The Beatles' Story was prepared for release on Digital Audio Tape (DAT), but when the format failed commercially, the plan was scrapped. This is one of the few American Beatles albums that has yet to be officially reissued on compact disc. (It was never issued in any format but long-playing record.)
Track listing
[
]
Side one
[
]
"On Stage with The Beatles"
"How Beatlemania Began"
"Beatlemania in Action"
"Man Behind The Beatles" - Brian Epstein
"Who's a Millionaire?"
Side two
[
]
"Beatles Will Be Beatles"
"Man Behind the Music" - George Martin
Side three
[
]
"A Hard Day's Night – Their First Movie"
"Sneaky Haircuts and More About Paul"
Side four
[
]
"The Beatles Look at Life"
"'Victims' of Beatlemania"
"Beatle Medley"
"Liverpool and All the World!"
External links
[
]