The Ballad of John and Yoko is a song by The Beatles, credited to Lennon/McCartney. The song, chronicling the events associated with Lennon's marriage to Yoko Ono, was the Beatles' 17th and final UK number one single.
Paul and John were the only Beatles to record it, as George was on holiday and Ringo was filming The Magic Christian. In his biography, McCartney states that Lennon had a sudden inspiration for the song and had suggested that the two of them should record it immediately, without waiting for the other Beatles to return. Reflecting this somewhat unusual situation, the session recordings include the following exchange:
Lennon (on guitar): "Go a bit faster, Ringo!"
McCartney (on drums): "OK, George!"
It was banned in some countries due to John's perceived-as-offensive remark about Christ and stating, They're gonna crucify me.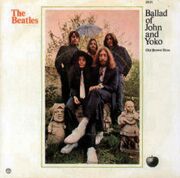 Paul McCartney — harmony vocal, bass (1964 Rickenbacker 4001S), drums (1968 Ludwig Hollywood Maple), piano (1905 Steinway Vertegrand), maracas
According to Ian McDonald and Mark Lewisohn.
Community content is available under
CC-BY-SA
unless otherwise noted.