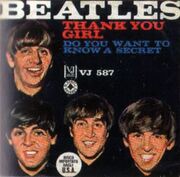 Thank You Girl is a song by The Beatles written by John Lennon and Paul McCartney. The song was released as a single in 1963.
"Thank You Girl" is a song by The Beatles and released as the B-side of "From Me to You", which was recorded on the same day (5 March 1963). It wasn't on a British Beatles album, but was featured as the second track on The Beatles' Second Album in the US. As the B-side to "Do You Want to Know a Secret?", it hit #35 on the Billboard Hot 100 in the spring of 1964.
Originally titled "Thank You, Little Girl", John Lennon and Paul McCartney wrote the song as a tribute to the band's many female fans. McCartney said, "We knew that if we wrote a song called, 'Thank You Girl' that a lot [sic] of the girls who wrote us fan letters would take it as a genuine thank you. So a lot of our songs were directly addressed to the fans."
Lennon said the song was originally intended as a single: "'Thank You Girl' was one of our efforts at writing a single that didn't work. So it became a B side or an album track." In April 1972 he told Hit Parader, "[This was written by] Paul and me. This was just a silly song we knocked off." Paul McCartney, the song's co-composer, seemed to agree describing it as "a bit of a hack song, but all good practice."
The song was recorded in thirteen takes, the same number of takes needed to perfect "From Me To You." This recording session is also notable because it marks the first studio appearances of two Lennon/McCartney songs that would not be released until much later in the band's career: "One After 909" from Let It Be, and "What Goes On" from Rubber Soul. Although both songs were rehearsed, only "One After 909" was recorded, and even then the results were deemed unsatisfactory for release.
The original stereo mix of the song is noticeably different to the mono mix (which is the mix used on Past Masters, Volume One) in the middle 8, where a couple of extra harmonica lines can be heard.
Both "From Me to You" and "Thank You Girl" were credited to McCartney-Lennon, as were all the songs on the Please Please Me album. The songwriting credit would be permanently changed to the more familiar Lennon/McCartney for their next release, the "She Loves You" single.
John wrote it as a follow-up to "Please Please Me." At the time they recorded the song, John was proud of it, but in 1971 he dismissed it as a "Just a silly song that we knocked off."