Something is a single released by The Beatles in 1969, and featured on the album Abbey Road. It was the first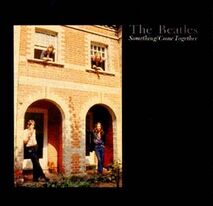 song written by George Harrison to appear on the A-side of a Beatles single. It was one of the first Beatles singles to contain tracks already available on an LP album, with both "Something" and "Come Together" having appeared on Abbey Road. "Something" was the only Harrison composition to top the American charts while he was a Beatle.
John Lennon and Paul McCartney—the two principal songwriting members of the band—both praised "Something" as among the best songs Harrison had written. As well as critical acclaim, the single achieved commercial success, topping the Billboard charts in the United States, and entering the top 10 in the United Kingdom. The song's success continued after the breakup of The Beatles, when it was covered by over 150 artists including Elvis Presley, Shirley Bassey, Frank Sinatra, James Brown, Julio Iglesias, Smokey Robinson, Beatallica (calling it "Something Else Matters") and Joe Cocker, becoming the second-most covered Beatles song after Yesterday.
Community content is available under
CC-BY-SA
unless otherwise noted.