She Said She Said is a song by the Beatles, written primarliy by John Lennon, and is the seventh track of Revolver.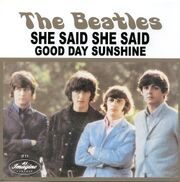 She Said She Said came about when the Beatles rented a house at 2850 Benedict Canyon Drive in Beverly Hills, California while the Beatles were doing their US tour in late 1965. There, the house was surrounded by fans who were trying to gain access to the house, even going as far as renting helicopters to spy overhead. Inside, some of the biggest celebrites of the time were there, such as Joan Baez, Eleanor Bron (who co-starred with the Beatles in the movie Help!), Peggy Lipton, and Peter Fonda. Fonda was bringing up his near-fatal self-inflicted childhood gunshot incident. The Beatles were less than interested to hear about it. Even worse, the four of them were on a acid trip when Fonda brought up the story. Fonda also said he knew what it was like to be dead. Lennon snaped, "Listen, mate, shut up about that stuff." Fonda recalled, "You're making me feel like I wasn't born."
The song was recorded on June 21, 1966. It was the last song recorded during the Revolver sessions, and it was added at the last minute when the album listing was a song short. The song took a total of nine hours to record and add overdubs. After the song was finished, the Beatles producer George Martin was reported to say, "All right, boys, I'm just going for a lie-down."
It should be noted that although most say that Paul walked out on the song, leaving Harrison to play the bass, it is very possible that Paul recorded his bass part before walking out.
Community content is available under
CC-BY-SA
unless otherwise noted.