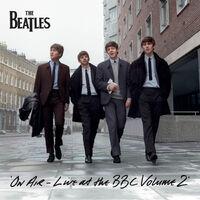 On Air - Live at the BBC Volume 2 is a Beatles compilation album which was released on 11 November 2013. The discs bear the Apple logo; the sleeve bears the Apple, Universal and BBC logos, thus appears to be a joint publication of the three.
This album is in the Paul McCartney Project at this page.
Track listing
[
]
All tracks are mono. Tracks in bold are music, the rest are speech.
Disc 1
[
]
And Here We Are Again —

Rodney Burke

Words Of Love
How About It, Gorgeous? — Rodney Burke, George Harrison
Do You Want To Know A Secret
Lucille
Hey Paul.... —

Lee Peters

, Paul McCartney
Anna (Go To Him)
Hello! — Lee Peters, John Lennon
Please Please Me
Misery
I'm Talking About You
A Real Treat — Lee Peters, Ringo Starr, John Lennon
Boys
Absolutely Fab — Lee Peters, George Harrison
Chains
Ask Me Why
Till There Was You
Lend Me Your Comb
Lower 5E — Rodney Burke, Paul McCartney, George Harrison
The Hippy Hippy Shake
Roll Over Beethoven
There's A Place
Bumper Bundle — The Beatles, Lee Peters
P.S. I Love You
Please Mister Postman
Beautiful Dreamer
Devil In Her Heart
The 49 Weeks — Paul McCartney
Sure To Fall (In Love With You)
Never Mind, Eh? — The Beatles, Rodney Burke
Twist And Shout
Bye, Bye — The Beatles, Rodney Burke
John — Pop Profile
George — Pop Profile
Disc 2
[
]
I Saw Her Standing There
Glad All Over
Lift Lid Again — Paul McCartney,

Brian Matthew

I'll Get You
She Loves You
Memphis, Tennessee
Happy Birthday Dear Saturday Club
Now Hush, Hush — Brian Matthew, Paul McCartney, John Lennon
From Me To You
Money (That's What I Want)
I Want To Hold Your Hand
Brian Bathtubes — John Lennon, George Harrison, Brian Matthew
This Boy
If I Wasn't In America — Brian Matthew, Paul McCartney, John Lennon, Ringo Starr
I Got A Woman
Long Tall Sally
If I Fell
A Hard Job Writing Them — The Beatles, Brian Matthew
And I Love Her
Oh, Can't We? Yes We Can —

Alan Freeman

, John Lennon
You Can't Do That
Honey Don't
I'll Follow The Sun
Green With Black Shutters — The Beatles, Brian Matthew
Kansas City / Hey-Hey-Hey-Hey!
That's What We're Here For — The Beatles,

Bernie Andrews

I Feel Fine (Studio out-take)
Paul — Pop Profile
Ringo — Pop Profile
Links
[
]