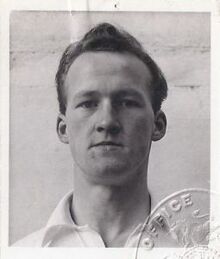 Norman Chapman was the drummer for The Beatles/The Silver Beetles for a couple of weeks in the summer of 1960. He only appeared with the band three times before being called up for National Service.
After losing Tommy Moore in June 1960, after the Scotland tour, the band was once again without a drummer. In July of 1960, after changing their name once again back to the Silver Beatles, they were discussing this dilemma at the Jacaranda Club. Allan Williams (The Beatles' original booking agent and the owner of "The Jac") had gone out to the street because he heard someone drumming. He called the group outside and they followed the sound of the drumming, but couldn't find the source. The following evening, they heard the drumming again, and followed the rhythm to a space above the National Cash Register Co., where Norman Chapman was playing. Norman accepted an invitation to join The Beatles, but he only appeared with them three times during the course of a couple weeks, after which he was called up for National Service duties.
He died of cancer in 1995.
Community content is available under
CC-BY-SA
unless otherwise noted.