This page uses Creative Commons Licensed content from Wikipedia (view authors).
As there are far too many pages of this type, this page must be edited to be original at the earliest possible moment.
This tag must not be removed until the rewrite is done — doing so is a (possibly criminal) violation of Wikipedia's copyright.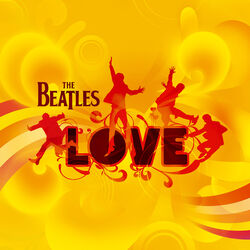 Love is a Grammy Award-winning soundtrack compilation album of music recorded by The Beatles, released in November 2006. It features music compiled and remixed for the Cirque du Soleil show of the same name. The album was produced by George Martin and his son Giles Martin, who said, "What people will be hearing on the album is a new experience, a way of re-living the whole Beatles musical lifespan in a very condensed period."[1]
Release history
[
]
George Martin and his son Giles began work on Love after getting permission from Paul McCartney, Ringo Starr, Yoko Ono, and Olivia Harrison (the latter two representing John Lennon and George Harrison, respectively).[1] In discussing the project, Giles Martin noted that elements were utilized from recordings in The Beatles catalogue, "the original four tracks, eight tracks and two tracks and used this palette of sounds and music to create a soundbed."[1] George Martin also promised a prize to those who could crack a "code" found in the album.[2]
Giles Martin said in an interview that he was afraid they wouldn't get the green light to do the project, so he started by making digital back-ups of the original multi-track recordings just to get started on the project. He also said that he and his father mixed more music than was eventually released, including "She's Leaving Home" and a version of "Girl" that he was particularly fond of.[3]
McCartney and Starr, the two living members of The Beatles after the release of "Love", responded very positively to the album. McCartney noted that "This album puts The Beatles back together again, because suddenly there's John and George with me and Ringo". Starr commended George and Giles Martin for the album and said that the album is "really powerful for me and I even heard things I'd forgotten we'd recorded."[4][5]
The album was first played publicly on Virgin Radio's The Geoff Show. Virgin Radio DJ Geoff Lloyd, a self-proclaimed fan of The Beatles, chose to play the entire album uninterrupted to allow younger fans to experience an album premiere.[6]
Love placed at #3 in the UK Albums Chart during its first week of release, trailing Westlife's The Love Album and Oasis' Stop the Clocks compilation.[7] It was also successful in the United States, debuting at #4 in the Billboard 200, where it was certified Platinum in late 2006.[8]
At the 50th annual Grammy awards on February 10, 2008, the album won Grammys in two categories — Best Compilation Soundtrack Album and Best Surround Sound Album.
Release details
[
]
The album was released in three versions — a standard CD version, a two-disc CD and DVD-Audio package and a two-disc vinyl package. The DVD-Audio disc contains a 5.1-channel surround sound mix (96 kHz 24-bit MLP), downmixable to 2-channel. For backwards compatibility it also contains separate audio-only DVD-Video content with 2-channel stereo (48 kHz 16-bit PCM) and 5.1-channel surround (448 kbit/s Dolby Digital and 754 kbit/s DTS).
Region
Date
Label
Format
Catalog
Japan
2006-11-15
Toshiba-EMI
CD
TOCP-70200
CD / DVD-Audio
TOCP-70201
United Kingdom
2006-11-2
Apple Records, EMI
CD
3798082 / 0946 3 79808 2 8
CD / DVD-Audio
3798102 / 0946 3 79810 2 3
United States
2006-11-21
Apple, Capitol Records, EMI
CD
0946 3 79808 2 8
CD / DVD-Audio
0946 3 79810 2 3
United Kingdom
2007-04-30
Apple Records, EMI
Vinyl
Track listing
[
]
The DVD has longer versions of "Revolution" and "Back in the USSR", increasing the total running time by nearly two minutes. The version which was finally made available on iTunes is based on the DVD version, as probably are versions available from other download sites. The track listing for both discs is as follows:
All tracks written by John Lennon and Paul McCartney, except where noted (see also: Lennon/McCartney).
Additionally, the version of this album sold on iTunes includes two exclusive bonus tracks which were mixed by Giles Martin but not used in the final production:
"The Fool on the Hill" – 3:29 "Girl" – 2:42
Track elements
[
]
Love contains elements from 130 individual recordings of The Beatles.[9] While a complete list has not been disclosed, highlights of how the elements were mixed have been noted by the press.
Chart performance
[
]
Chart (2007)
Providers
Peak
position
Certification
Sales
Argentina Album Chart
CAPIF
1
Gold (2x)
40,000[19]
Billboard 200
Billboard
4[20]
Platinum
1,669,712 [21]
Billboard Comprehensive Albums
4[22]
Billboard Top Internet Albums
1[23]
Euro Album Chart
IFPI
1[24]
2x Platinum[25]
2,000,000+
Canada Album Chart
Nielsen Soundscan
1[26]
2x Platinum[27]
200,000+
France Album Chart
SNEP/IFOP
1[28]
Platinum
211.200[29]
Greek International Album Chart
IFPI
1[30]
Gold
20,000
Ireland Album Chart
IRMA
1
3x Platinum
45,000
Australian Album Chart
ARIA
2[31]
2x Platinum
140,000+
New Zealand Album Chart
RIANZ
2[32]
Platinum
15,000+
German Album Chart
Media Control
2[33]
3x Gold
300,000+
Sweden Album Chart
GLF
2[34]
Gold
20,000+
UK Album Chart
BPI/The Official UK Charts Company
3[35]
2x Platinum
769,000 (to June 8, 2007)
Japanese Album Chart
Oricon
3[36]
Platinum
242,822
Swiss Album Chart
Media Control Europe
3[37]
Belgium Album Chart
Ultratop / Nielsen
3[38]
Gold
15,000+
Austria Album Chart
Media Control Europe
3[39]
Netherlands Album Chart
Megacharts
4[40]
Gold
47,130
Czech Republic Albums Chart
IFPI
4[41]
Portugal Album Chart
Promusicae/Media Control
5[42]
Gold
10,000+
Finland Album Chart
GLF
5[43]
Italy Album Chart
FIMI/Nielsen
7[44]
Platinum
150.000
Spain Album Chart
Promusicae/Media Control
9[45]
Estonia Album Chart
Media Control Europe
17[46]
See also
[
]
All Together Now, a documentary following the creation of the Cirque du Soleil show and its soundtrack
Notes
[
]
External links
[
]