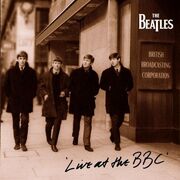 See also: On Air - Live at the BBC Volume 2
Live at the BBC is a Beatles album released in 1994 by George Martin with an introduction by Derek Taylor. All tracks are mono.
This album is in the Paul McCartney Project at this page.
Tracks
[
]
All songs Lennon/McCartney unless otherwise noted. Tracks marked † are exclusive to the 2013 re-release.
Disc One
[
]
 
 
1
Beatle Greetings (speech)
2
From Us To You
3
Riding On a Bus (speech)
4
I Got a Woman (Charles)
5
Too Much Monkey Business (Berry)
6
Keep Your Hands Off My Baby (Goffin/King)
7
I'll Be On My Way
8
Young Blood (Leiber/Stoller/Pomus)
9
A Shot of Rhythm and Blues (Thompson)
10
Sure to Fall (In Love With You) (Perkins/Claunch/Cantrell)
11
Some Other Guy (Leiber/Stoller/Barrett)
12
Thank You Girl
13
Sha la la la la (speech)
14
Baby It's You (David/Bacharach/Williams)
15
That's All Right (Mama) (Crudup)
16
Carol (Berry)
17
What is it, George? (speech) †
17


18

Soldier of Love (Lay Down Your Arms) (Cason/Moon)
18


19

A Little Rhyme (speech)
19


20

Clarabella (Pingatore)
20


21

I'm Gonna Sit Right Down and Cry (Over You) (Thomas/Biggs)
21


22

Crying, Waiting, Hoping (Holly)
22


23

Dear Wack! (speech)
23


24

You Really Got a Hold On Me (Robinson)
24


25

To Know Her is to Love Her (Spector)
25


26

A Taste of Honey (Marlow/Scott)
26


27

Long Tall Sally (Johnson/Penniman/Blackwell)
27


28

I Saw Her Standing There
28


29

The Honeymoon Song (Theodorakis/Sansom)
29


30

Johnny B Goode (Berry)
30


31

Memphis, Tennesee (Berry)
31


32

Lucille (Collins/Penniman)
32


33

Can't Buy Me Love
33


34

From Fluff To You (speech)
34


35

Till There Was You (Willson)
Disc Two
[
]
Crinsk Dee Night (speech)
Have A Banana! (speech, 1994 release only) / Ringo? Yep! (speech) †
Just a Rumour (speech)
Roll Over Beethoven (Berry)
Sweet Little Sixteen (Berry)
1822! (speech)
Lonesome Tears In My Eyes (J and D Burnette/Burlison/Mortimer)
Nothin' Shakin' (Fontaine/Calacrai/Lampert/Gluck)
The Hippy Hippy Shake (Romero)
Glad All Over (Bennett/Tepper/Schroeder)
I Just Don't Understand (Wilkin/Westberry)
So How Come (No One Loves Me) (Bryant)
Dizzy Miss Lizzy (Williams)
Medley: Kansas City (Leiber/Stoller) Hey-Hey-Hey-Hey (Penniman)
Set Fire to That Lot! (speech)
Matchbox (Perkins)
I Forgot to Remember to Forget (Kesier/Feathers)
Love These Goon Shows! (speech)
I Got To Find My Baby (Berry)
Ooh! My Soul (Penniman)
Ooh! My Arms (speech)
Don't Ever Change (Goffin/King)
Slow Down (Williams)
Honey Don't (Perkins)
See also: the Wikipedia version of this article