This is a list of various instruments that were owned, played by, or used by The Beatles.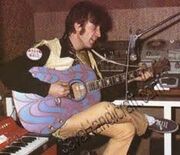 The Beatles have widely been known to use guitars throughout their performance
1965 Framus Hootenanny (Lennon)

Lennon used it to record "Help!" "It's Only Love", "Two Of Us", "Polythene Pam" and "You've Got to Hide Your Love Away" among other songs. Its whereabouts are unknown
Egmond Rosetti Solid 7 (McCartney) McCartney first used this guitar as a makeshift bass before receiving his first Höfner violin bass.
Egmond Rosetti 276 (Harrison) - One of the first ever guitars Harrison owned.
Epiphone Texan

McCartney used this as his acoustic guitar until he got a Martin in the later years.
George had a Gibson Les Paul Standard that was a gift from Eric Clapton that was used on While My Guitar Gently Weeps by Clapton.
It was gold topped before it was refinished to a cherry red at the Gibson factory.
Was stolen from under George's bed in 1970 and was later purchased at a Guitar Center in Hollywood, California.

George had to trade a '56 Les Paul and a Precision Bass for it.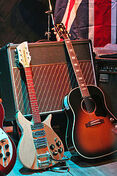 1964 Fender Esquire (McCartney) - known to have been used in Strawberry Fields Forever, among other songs

Ramirez A-1 classical guitar: Owned by both Lennon and Harrison at some point in 1964. May or may not have been the same guitar.
Ovation 1651 Legend (Lennon)
Main article: Drums

Ringo originally had a four piece Ludwig kit with a Black Oyster Pearl finish and the classic Drop-T logo.
For Magical Mystery Tour, he painted his own drum head.
In 1968, Ringo upgraded to a five-piece Maple finish Ludwig Hollywood kit.
Community content is available under
CC-BY-SA
unless otherwise noted.