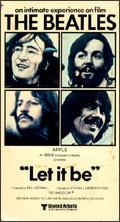 Let It Be
is a film starring
The Beatles
, showing them recording their two albums,
Let It Be
, and
Abbey Road
, although
Abbey Road
was released before both the movie and album that would go by the name of
Let It Be
.
The film was filmed in
1969
during the recording of the afformentioned albums. It has been kept from being distributed on
DVD
by
Paul McCartney
,
Ringo Starr
, and the estates of
John Lennon
and
George Harrison
, as it shows the Beatles getting on each others' nerves and arguing. However, it has survived as a bootleg that is available to download or buy from various sources.
But it isn't all just conflicts of opinions. We get to see the Beatles getting back to basics and having fun. Playing songs they hadn't done since the very early sixties, such as Besame Mucho, and trying out random songs, such as Suzy Parker.
The film ends with the last concert the Beatles would ever perform as a four-person group; the momentous Rooftop Concert that took place on the roof of 3 Savile Row (the then Apple Building), located in the business district of London. The Beatles played songs from the new albums (Abbey Road and Let It Be) as well as older hits, such as While My Guitar Gently Weeps.
Eventually, the local law enforcement put an end to the performance when they cut the power, forcing the Beatles to stop as they were 'disrupting local businesses'. The last song they played was Get Back, and towards the end of the song, with the London Police officers standing behind him, Paul ad libbed to the beat;
"Yeah, get back. You been out too long Loretta. You been playin' on the roofs again, and thats no good, you know your mommy doesn't like that. Ohh she gets angry, she gonna have you arrested! Get back!"
- Get Back (version available on the Anthology 3 two disc set)
The show finished, and the Apple staff who were allowed onto the roof applauded, and the Beatles walked away to start their separate lives.
Original Movie Trailer
Edit
External links
Edit
Community content is available under
CC-BY-SA
unless otherwise noted.