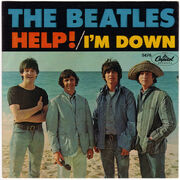 Help! is a song by The Beatles, written primarily by John Lennon though Paul McCartney reports that he had a hand in writing the song as well, being called in "to complete it" in a two-hour writing session on 4 April 1965. The song is featured in the film Help! and is on the album of the same name. The song was released as a single in 1965, with "I'm Down" as its B side, and stayed #1 for three weeks in both the USA and UK.
With none of the Beatles caring for "Eight Arms to Hold You" being the title of their next motion picture, John Lennon took it upon himself to write a song (with a little assistance from Paul) at his home in Weybridge containing a more suitable title. It was originally written to be a slow number (an attempt at this tempo was attempted by John at the Dakota in 1980) but the Beatles sped it up and the song became their next single.
"Help!" was recorded on April 13, 1965. Takes 1-8 concentrated on the rhythm track, the first vocals being introduced at take nine. Take 10 was complete, take 11 a false start of the overdub tape and the best and final take, numbered 12, saw the introduction of George Harrison's descending, jangly guitar figures which made the song especially distinctive.
There is a great deal of difference between the stereo and mono mixes of the song. The stereo mix has a tambourine playing in the chorus, which the mono lacks, but the main difference is that the two feature different lead vocals from John (an easy way to this Is all wrong is that John rushes through the words "changed my mind" in the stereo version, but enunciates each word clearly in the mono). This is because John Lennon overdubbed vocals and percussion onto the original tape at the CTS film dubbing studio on May 24, 1965. These overdubs could not be copied back onto the original tape, so the mono mix was created from the CTS tape, while the stereo mix was created from the original tape.
The song was another worldwide smash and the Beatles featured "Help!" during their summer 1965 and 1966 concert tours.
In 2004, "Help!" was ranked number 29 on Rolling Stone magazine's list of the 500 greatest songs of all time.
The song was covered by many artistes, including Deep Purple and Tina Turner.
Community content is available under
CC-BY-SA
unless otherwise noted.