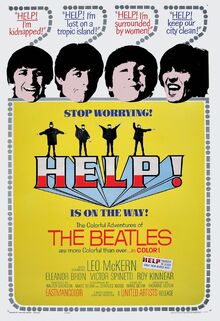 Help! is the second film starring The Beatles, released in 1965. This is the first Beatles film in colour. It is a spy story, resembling a James Bond Movie, but less gruesome and more cartoonish.
A cult finds that their sacrifical ring is gone, and we see that Ringo has it stuck on his finger. Members of the cult use different tactics to try to remove it, with the Beatles escaping to such locations as the Bahamas, before it ultimately ends up that the cult leader has the ring stuck on his finger.
Ring even said that the film was "basically a chase film... You've got all of these bad guys after me."
Reception
Edit
The movie was well received, but A Hard Day's Night was still the critics' preference, the main reason being mostly the fans wanted to see the Fab Four as themselves, not involved in an action movie.
Soundtrack
Edit
The soundtrack to the film had some classic Beatles hits such as Ticket to Ride, and the title track, Help!. Also included on this LP is the most covered song of all time, Yesterday, an ancestor of Norwegian Wood, and You've Got to Hide Your Love Away.
The songs played during the film are:
External links
Edit