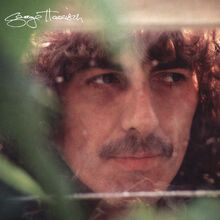 George Harrison is George Harrison's eighth solo album, released in 1979.
Track listing
Edit
"Not Guilty" was written in 1968 and was supposed to be released on the White Album. The original recording is available on Anthology 3.
The roar of car engines in "Faster" was recorded during Formula 1 Grand Prix, 16th of July 1978. This song was dedicated to "the Entire Formula One Circus" and in memory of Ronnie Peterson who died in a car crash during a Grand Prix race in 1978.