From Me to You is a song by The Beatles written by John Lennon and Paul McCartney. The song was released as a single in 1963.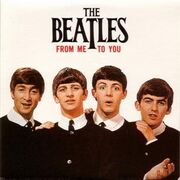 "Please Please Me" had not been released yet when the Beatles went back to EMI on March 5, 1963 to record "From Me To You." It had been Brian Epstein's and George Martin's plan in the early days to release a new Beatles single every three months. "From Me To You" was captured in seven takes with six additional takes serving as edit pieces for the harmonica fills, Harrison's guitar solo and John and Paul's harmonized introduction.
Lennon and McCartney wrote "From Me To You" just five days before it was recorded on February 28 on the artist coach traveling from York to Shrewsberry during a concert tour supporting Helen Shapiro. The title came from a letters column in the popular British musical paper "New Musical Express." Kenny Lynch, who was on tour with the Beatles and Shapiro, said the song was "rubbish" and the high "woos" in it would make the Beatles sound like fairies.
This song featured the high falsetto "woooo" which became a trademark in early Beatle songs and was in emulation of Little Richard. It also was a major step forward in songwriting, where the verses are sung in C Major, but the bridges are in A Minor, almost unheard of in pop music at the time.
It was George Martin who suggested using the harmonica for "From Me To You." John had to borrow Abbey Road disc cutter Malcolm Davis' harmonica for the session. Afterwards, when he returned it, John said it tasted like a sack of potatoes. The mono version of the song has a harmonica over the intro which is missing in the stereo version.
"From Me To You" was a huge hit in the UK, staying at #1 for seven weeks. When it was first released in America, it hardly made a dent in the charts. It was only after the advent of Beatlemania when it was the B-side to "Please Please Me" that it reached #41.
With slightly altered lyrics, it became the theme song for their long-running BBC radio show "From Us To You."
In 1963, Del Shannon became the first American to cover a Beatles song when he recorded "From Me To You." The Beatles had opened for Del during a UK tour in 1962. After Beatlemania, however, Shannon's career never recovered.
The Beatles nearly never recorded this song. It was Paul's dad who said it was a nice song.
Community content is available under
CC-BY-SA
unless otherwise noted.