Eight Days a Week is a song by The Beatles, written by John Lennon and Paul McCartney. The song was released on the album Beatles for Sale and released as a single in 1965. It was one of the 1964 or 65 hits.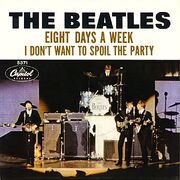 The title for the song was taken from a conversaton between Paul and his chauffeur, Paul walked straight into John's house and said "I got the title, 'Eight Days a Week'."
On October 6, 1964, the Beatles began sessions for "Eight Days a Week." Take one was a straight, no frills attempt on acoustic guitars. On take two, John and Paul used a succession of harmonized "Oohs" climbing up the scale for the intro. On take three, they combined their harmony with the acoustic guitars. On take four, the "Oohs" remained at the same pitch throughout. Take five incorporated the "Oohs" at the end as well as the beginning. Take six was the first to resemble the finished version, upon this, John double tracked a lead vocal. The final overdub, take 13, was marked the best take - that is until October 18 when the group taped edit pieces (takes 14 & 15) for the intro and outro, although the intro piece was never used. In mixing, the song was also faded in, instead of out - a first in recorded pop history.
The Beatles, especially John, never cared for "Eight Days a Week" and never performed it live.
The song was issued as a single in the United States on February 15, 1965 after DJs began playing the song frequently after they had obtained imported copies of the British Beatles For Sale album which had been released in the UK the previous December.
"Eight Days a Week" has been covered by many artists, including Billy Preston and Joan Jett.
Community content is available under
CC-BY-SA
unless otherwise noted.