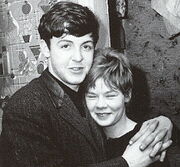 Dorothy Rhone (born in Childwall, Liverpool) is a former girlfriend of Paul McCartney . They began dating in 1959 and were engaged to be married, however Dot suffered a miscarriage in 1960 and after that their relationship fell apart.
Early Years
[
]
Dorothy Rhone was born in Childwall, Liverpool to Tom and Jessie Rhone. She had three elder siblings, Billy, Anne and Barbara. Her father was a timekeeper on the Liverpool Docks. She was a student at the Liverpool Institute High School for Girls.
Relationship with Paul McCartney
[
]
Dot met Paul McCartney at the Casbah Coffee Club in Liverpool where he was playing there as a member of the Quarrymen. Paul aknowledged in later years that he had been very controlling and possessive over Dot, even controlling how she styled her hair and what she wore; Paul said that he and John tried to style their girlfriends to look like Brigitte Bardot.
While in Hamburg, Paul and Dot shared a cabin on a houseboat, and Dot got to see The Beatles perform in Hamburg. On her return their relationship seemed to be falling apart, and ended in the summer of 1962. A few months later, the Beatles secured national fame.
Later Life
[
]
Dot emigrated to Canada in 1964, where she met her husband Werner Becker and they have three daughters together, the eldest is called Astrid, named after Astrid Kirchherr who Dot was friends with while in Hamburg. Dot and Werner now live in Mississauga, Ontario.