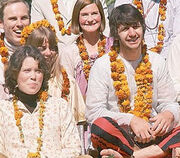 Dear Prudence is a song by The Beatles, credited Lennon/McCartney. The "Prudence" in the song is Prudence Farrow, the sister of movie star Mia Farrow. Prudence had accompanied her famous sister to study with the Maharishi Mahesh Yogi at Rishikesh. Prudence usually spent most of her time there in her room meditating. While the Beatles left the course early, Prudence and several others stayed and became TM teachers. The was inspired by how Prudence would block herself away from the world, which inspired the line "won't you come out to play."
John Lennon never played "Dear Prudence" for Prudence Farrow when they were in India. "George was the one who told me about it," she said later. "At the end of this course, just as they were leaving, he mentioned that they had written a song about me but I didn't hear it until it came out on the album. I was flattered. It was a beautiful thing to have done."[1]
On June 27, 1987, Sotheby's in New York sold a page of "Dear Prudence" lyrics (14 lines of verse and notes and doodles around the border) to an unidentified bidder for $19,500.
It's one of Julian Lennon's favourite songs of his father's.
This song has been covered by Siouxsie and the Banshees, the Jerry Garcia Band, the Jackson 5, Leslie West, Ramsey Lewis, and The Five Stairsteps.
References
Edit
↑ John Lennon, A Hard Day's Write
Community content is available under
CC-BY-SA
unless otherwise noted.