See also: Come Together (album)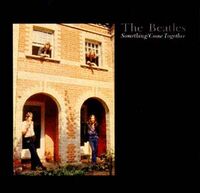 Come Together
is a song by The Beatles written primarily by
John Lennon
and credited to
Lennon/McCartney
. The song is the lead-off track on The Beatles' September 1969 album Abbey Road. It was intended to be a song for Timothy Leary's campaign for governor of California, but the campaign ended when Leary was sent to prison for possession of marijuana. Some lyrics were changed and reworded, leading to the song being one side of the group's twenty-first single (a double A-side with George Harrison's "
Something
"). The song reached the top of the charts in the U.S., while becoming a Top 10 hit in the UK. It is also featured in the video game
The Beatles: Rock Band
.
LOVE version
Edit
The song was inclided in LOVE, mashed-up with Dear Prudence (as an instrumental fade in at the end) and Cry Baby Cry (as a transistion).
This song has been covered multiple times, the most recognizable being Michael Jackson's, from the HIStory album in 1995.
Aerosmith also covered the song for the movie and on the soundtrack to the film Sgt. Pepper's Lonely Hearts Club Band in 1978.

No... A stub?
Please sing into it if you can.