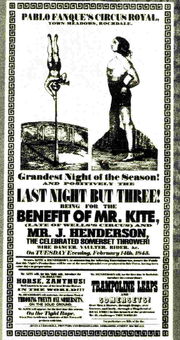 Being for the Benefit of Mr. Kite!
is a song released on the
Sgt. Pepper's Lonely Hearts Club Band
album, in
1967
.
Inspiration
Edit
The song, which was written by John Lennon, was inspired by a 19th century poster (about 1843), which he had found in an antique store in Surrey. Many of the elements in the song are based off of the poster.
It is commonly believed that the line "And of course Henry the Horse dances the waltz" was a reference to the drug heroin (as both "henry" and "horse" are slang names for it); the original line on the poster referred to the horse as Zanthus.
The real Mr. Kite was an all-round performer who worked with Panquo Fanque and Mr J. Henderson, who was employed as a wire walker, trampolinist (somerset thrower, according to the poster) and clown.
Personnel
Edit
John Lennon - Lead And Backing Vocals, Lowrey Organ, Chord Harmonica, Tape Loops, rhythm guitar ( Gibson J-160E)
Paul McCartney - Bass Guitar (Rickenbacker 4001S), Lead Guitar (Epiphone Casino?), Backing Vocals
George Harrison - Maracas, Bass Harmonica
Ringo Starr - Drums, Harmonica
George Martin - Piano, Harmonium, Hammond Organ, Glockenspiel, Tape Loops
Mal Evans - Harmonica
Neil Aspinall - Harmonica
Geoff Emerick - Tape Loops
Community content is available under
CC-BY-SA
unless otherwise noted.