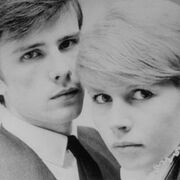 Astrid Kirchherr (May 20, 1938 - May 12, 2020) was a German photographer and artist known for her association with The Beatles and her photographs of The Beatles in their Hamburg days: John Lennon, Paul McCartney, George Harrison, Stuart Sutcliffe, and Pete Best.
Kirchherr met artist Sutcliffe in the Kaiserkeller bar in Hamburg in 1960, where he was playing bass with The Beatles, and was later engaged to him, before his death in 1962. Although Kirchherr has taken very few photographs since 1967, her early work has been exhibited in Hamburg, Bremen, London, Liverpool, New York City, Washington, D.C., Tokyo, Vienna and at the Rock 'n' Roll Hall of Fame. She has published three limited-edition books of photographs.
Kirchherr is credited with inventing The Beatles' moptop haircut although she disagrees, saying: "All that rubbish people said, that I created their hairstyle, that's rubbish! Lots of German boys had that hairstyle. Stuart [Sutcliffe] had it for a long while and the others copied it. I suppose the most important thing I contributed to them was friendship." In 1995, Kirchherr told BBC Radio Merseyside: "All my friends in art school used to run around with this sort of what you call Beatles haircut. And my boyfriend then, Klaus Voormann, had this hairstyle, and Stuart liked it very very much. He was the first one who really got the nerve to get the Brylcreem out of his hair and asking me to cut his hair for him. Pete [Best] has really curly hair and it wouldn't work."Kirchherr says that after she cut Sutcliffe's hair, Harrison asked her to do the same when she was visiting Liverpool, and Lennon and McCartney had their hair cut in the same style while they were in Paris, by Kirchherr's friend, Vollmer, who was living there at the time as an assistant to photographer William Klein.